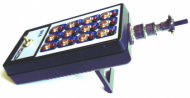 09.10.2019 New Product! PTM312 Operator Console

The PTM312 operator terminal is designed to control actuators - relays using the Modbus RTU exchange protocol.
The remote control has 12 buttons and LEDs to control 12 channels of the remote relay plus a general trip relay. The remote control has a mode switch: enable channels one at a time or turn off everything.